Prepare for winter. Preserve the harvest!
Decades ago, knowing how to preserve your own food wasn't just a hobby, it was a necessity to survive the winter and hard times when food wasn't as readily available from grocery stores.
Nowadays we're used to being able to buy apples in January, eat "fresh"
strawberries during a snowstorm

and generally do very little of the actual work when it comes to preparing our meals.



While this may be convenient, it's less than sustainable and FAR from healthy.
Not to mention, we're putting our food security in the hands of grocery stores, corporations and big agriculture instead of in our home pantries and basement larders.
Stock your pantry with homemade food


We've already seen what happens to grocery store shelves when an unexpected crisis hits....


Learning how to can and stock your pantry with your own home-canned food means that you don't have to rely solely on the grocery store to provide for you.


It means that no matter what happens in this crazy world, whether it be a global pandemic, a natural disaster, a job loss or some other unforeseen event, putting food on the table for your family won't be something you need to worry about.


Still, if you're new to canning, it can feel a little intimidating, especially if you have no one to show you how it's done.
I started out just like you!
When I started canning just a few years ago, I had no idea what I was doing. I'd never touched a canner in my life!
I also didn't know anyone who could teach me in person, so I turned to the Internet to learn how to get started.
At first it was so confusing trying to sort through all of the conflicting advice and I was deathly afraid I would do something wrong and poison my family.


But once I found reliable sources of information and learned the science behind canning, all of my fear around it disappeared and nowadays I can hundreds of jars of food each year with total confidence.
I know that the number of people like me is growing; People who didn't grow up homesteading or canning food, but who really want to learn.
And it just so happens I really want to teach them -you!- how to safely and confidently preserve the harvest and stock your pantry with your own homemade food!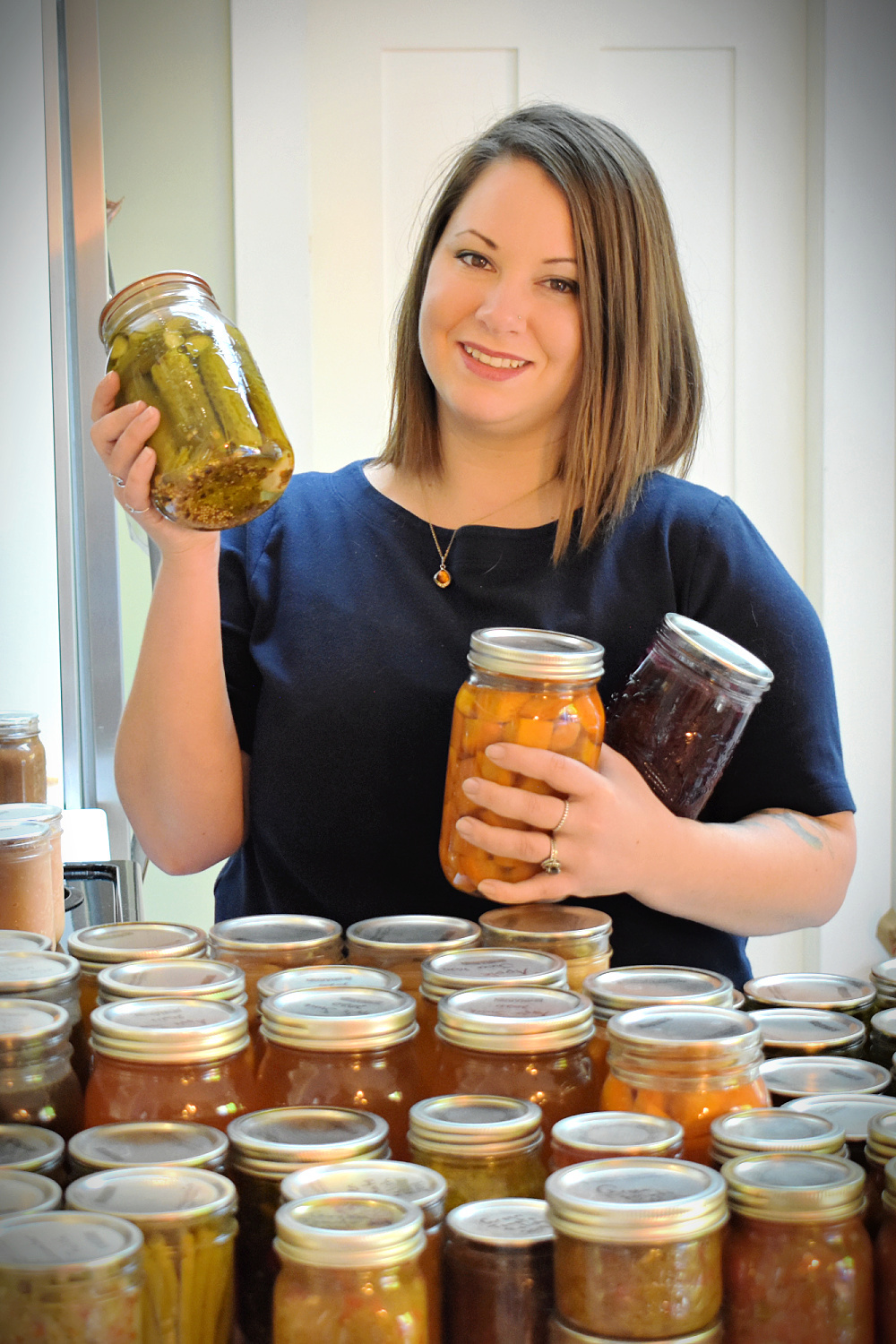 What you'll learn
The course is broken down into 4 parts...
Part 1: Canning Basics
We'll start off by going over the most important thing of all: canning safety.
Canning is a science, not an art. There is a right way and many dangerous ways to can food at home. But once you understand the science behind it, you'll be able to start canning a wide variety of foods at home with confidence and ease, and you'll have peace of mind knowing that you've got a pantry full of home-canned food that's 100% shelf-stable and safe to eat.
We'll also cover canning equipment and tools so that you know exactly what you do and don't need to get started canning at home.
Part 2: Water bath Canning
I'll show you step-by-step how to get started water bath canning all sorts of high acid foods, including fruits, jams, pickles, pie filling and applesauce.


I'll also walk you through exactly what you need to do every time you begin and end a canning session to ensure your food stays safe and shelf-stable for a long time!
Part 3: Pressure Canning
Learning how to pressure can opens up a whole new world of possibilities when it comes to preserving food at home.


In this section of the course, I'll show you how to safely operate a pressure canner, and I'll teach you how to can low acid foods like vegetables and chicken stock so you always have jars full of healthy, versatile homemade staples to build meals with throughout the winter months.
Part 4: Storing and using your home-canned food
Finally, I'll teach you how to properly store your home-canned food to prevent food spoilage, and I'll give you some tips to help you use all of that canned food in a variety of ways so that those jars actually get eaten and don't just end up sitting on your shelves!
PLUS…
You'll get access to over $80 in bonuses too! 
✓ 

Bonus Jam & Jelly-Making Series --> bonus video series on how to make fruit jams and jellies at home, including pectin-free and low-sugar options. ($39 value)


✓ 

Printable charts, guides and cheat sheets --> for quick reference when you're canning ($10 value)


✓ 

Home Canning Handbook (includes 30 Recipes!) --> FREE copy of my comprehensive canning eBook with detailed information on just about everything you'd ever need to know about canning, plus 30 canning recipes for everything from fruits, jams, pickles and sauces to meats, vegetables, soups, stocks, stews and more! ($19 value)



✓

 Private Facebook Group --> a place to ask questions, connect with other students, share your progress and get support and encouragement as you go! (priceless!)


✓ 

Fast Action Bonus --> Enroll by Tuesday, July 27th at midnight and get my free Herbal Infusions video lesson and eBook FREE!!!! ($22 value)



Here's what students are saying...
Hi there!


I'm Anna, creator of this course and founder of The House & Homestead. I'm a wife, mom and modern homesteader whose greatest joys in life are digging in the dirt and filling her pantry with jars of homemade food.


But this wasn't always the case. In fact, just six years ago I still lived in a city condo and had never touched a canner in my life!


It used to take me hours to can a simple batch of jam or pickles because I would re-read the recipe and instructions about a hundred times since I didn't have anyone to show me how it should be done.


And don't even get me started on pressure canning... I literally hid around the corner the first time I pressure canned food because I'd heard horror stories about pressure canner blowing up people's kitchens!


Fast forward to today, and I now put up hundreds of jars of home-canned food every year, and I help others do the same!
For the past three years, I've made it my mission to teach as many people as possible how to grow, cook and preserve their own food at home too.


The Yes, You CAN! Home Canning Course is the culmination of everything I've learned about canning that's helped me go from a pantry full of processed food and ramen noodles (at the best of times) to a pantry full of homemade, homegrown, home-canned food.


Whether brand new to canning or you've done a little canning in the past and are ready to take it to the next level, this course was designed for you!
There are so many reasons to learn how to can food at home


Having shelf-stable jars of home canned food on your pantry shelves at all times means you'll never have to worry about feeding your family in the case of an emergency.


Whether you're worried about inflated prices, a job loss, a power outage or any number of possible emergency situations, you'll always have safe, healthy, home-canned food to eat and to share with your loved ones, no matter what.


Freezing food is great, but what if the electricity goes out?


Dehydrated food lasts a long time, but it loses a lot of nutrients and must be rehydrated before eating (and the texture's never the same).


Fermenting is super healthy, but fermented foods are an acquired taste and must be stored in a fridge or in cold storage. Even then, fermented foods only last for so long.


Home canned food lasts months and even years when stored properly! That means you can preserve food when it's abundant and store it to eat year-round or for a rainy day.


Not to mention, when you can your own food, you know exactly what's in it, and you can ensure that what's in it is REAL FOOD (unlike many canned foods from the grocery store).


Plus, home canned food is the ultimate form of meal prep. Just open a jar and you've got homemade food that's ready to eat! No defrosting, rehydrating or even planning ahead.
Whether you want to be more prepared for busy weeknights or for the next global emergency, you'll always have the peace of mind of knowing you've got a pantry full of homemade food to feed your family, and THAT is like having money in the bank.
I hope to see you in class:)